Major Signs That You Need An AC Upgrade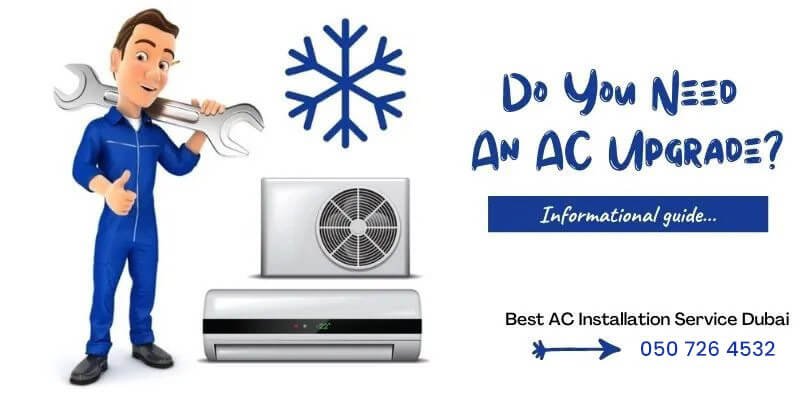 The calendar may show that winter has arrived around the globe, but it has little effect on our state. In Dubai, it is always a never-ending boiling hot summer season. As a result, we are more likely to depend on our air conditioning systems to keep ourselves cool on a daily basis.
Our cooling units, on the other hand, are subjected to a great deal of wear and tear as a result of this constant use. Of course, this puts a strain on the airconditioning unit over time, and there comes a stage where no amount of upkeep or repairs will benefit. When the time arrives that your air conditioning device is no longer up to par, you may need to seek a new AC replacement.
If you are making this decision, BreezeCool's AC repair technicians in Dubai are willing to assist with your Dubai AC installation needs. Our expert technicians are happy to assist you with everything from product placement to sizing and more.
Your air conditioner will ultimately need to be replaced with a new device that is more energy-friendly and reliable. Here are a few indicators that the time has come:
Your air conditioner is over 15 years old.
Is the air conditioner mature enough to hold a driver's license? If you reply yes, you can worry about changing your air conditioner because one that is over 15 years old is more likely to break down and cost you more in maintenance and services than it is worth.
Your air conditioner is no longer producing cold air.
If you switch on your air conditioner and notice that no matter what temperature you set it to, it has no impact on the cooling results, it means that your machine is no longer up to the notch. If this is the case, you can arrange an upgrade with a new air conditioning device as soon as possible.
Utility bills are excessively high.
How much did the last energy bill cost you? If it made you consider turning off the air conditioner for as long as you could stand the sun, then the amount was too high. This is due to the fact that your air conditioner is losing effectiveness and is using more energy than enough to cool your house. This implies that your machine must be removed and replaced.
It needs frequent costly repairs.
How many times have you had to book air conditioner maintenance recently? If the expense of those repairs is equivalent to or greater than half of the cost of a new device, it implies that an upgrade is required.
Is your air conditioner on its last legs? Don't fear, our team is here to assist you. Our qualified and experienced AC technicians will assist you in the installation of your new system and can help you explore the advantages of running your brand new system for long and productive life.