Top Reasons Why Duct Tape Should Never Be Used On Ductwork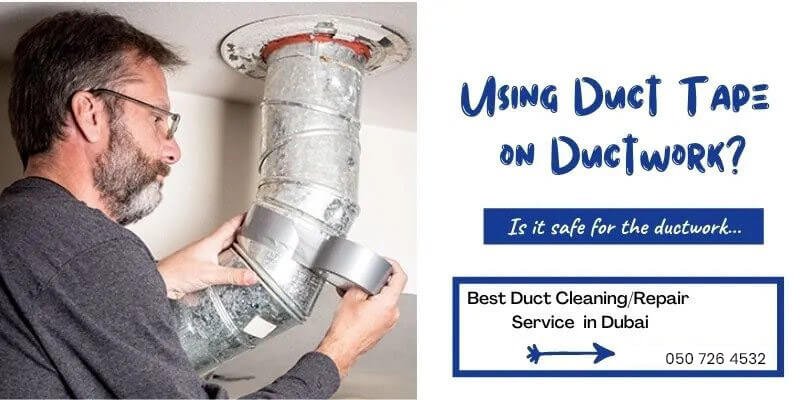 Have you ever seen that large roll of silver tape and wondered, "if it's really worth it?" From sealing cracked plastic to wrapping cords to removing warts to patching a hose, duct tape serves a handful of purposes. Interestingly, the sealing or repairing of air ducts is one of the things that you cannot do with duct tape.
We have received several inquiries from our fellow brothers about duct tape and how it should be included in the cooling system. But since you can, that doesn't imply that you have to.
Duct tape cannot withstand high temperatures.
Duct tape is a versatile material that can survive a variety of situations. It's no wonder that duct tape will hold perhaps the most difficult surfaces together. However, heat and temperature changes are the two issues it won't hold up against. This is one of the reasons to never use duct tape on ducts.
Why?
Prolonged heat exposure will cause the adhesive in the tape to disintegrate over time. As a result, the duct tape may fall off or become embedded in the ductwork. Duct tape may also become brittle and break off as a consequence of the multiple temperature variations.
Duct tape increases operating expenditures.
A leakage in the ductwork will get the electricity costs up. When treated air escapes from a home's ductwork through gaps and openings, the air conditioning machine has to work twice as hard to deliver the same volume of air.
There could be a temporary reduction in your electricity costs if you "patch" your ducts with duct tape. But your electricity bills will go up again as soon as the duct tape runs out or comes off. The only approach to prevent this headache is to use duct-specific content or hire a licensed HVAC contractor.
What kind of tape is compatible with ductwork?
You may use different forms of tape to fix minor gaps and fractures in the ductwork. The following are some of the better choices:
Duct Putty
This wear-resistant material, also known as duct mastic, can be used to reinforce duct joints and big openings. However, you must first seal the opening with fiberglass mesh tape before applying the duct putty.
Foil Tape
Use foil tape rather than duct tape!
Why?
This tape is produced with an adhesive that won't dry out while subjected to high temperatures. The aluminum on the tape's back will even survive temperature fluctuations without slipping off, unlike duct tape.
Need professional duct repair or cleaning service in Dubai? Call BreezeCool.
Our air conditioning repair specialists are standing by to assist you with every concern you might have. We are an accredited AC servicing company in Dubai. Dial us today at 050 726 4532 for an immediate appointment.